New post on

Now The End Begins
The pontiff held mass for more than 400,000 worshippers in a field in the Mexico City suburb of Ecatepec
"The children gather wood, and the fathers kindle the fire, and the women knead theirdough, to make cakes to the queen of heaven, and to pour out drink offerings unto other gods, that they may provoke me to anger."
Jeremiah 7:18 (KJV)
Pope Francis just wrapped up
a whirlwind tour of Mexico where over 400,000 people came out to bow at his feet and worship the man they call the "Holy Father". Mexicans were weeping, crying and engaging in fits of ecstatic adoration for the Jesuit superstar. And Pope Francis did not disappoint.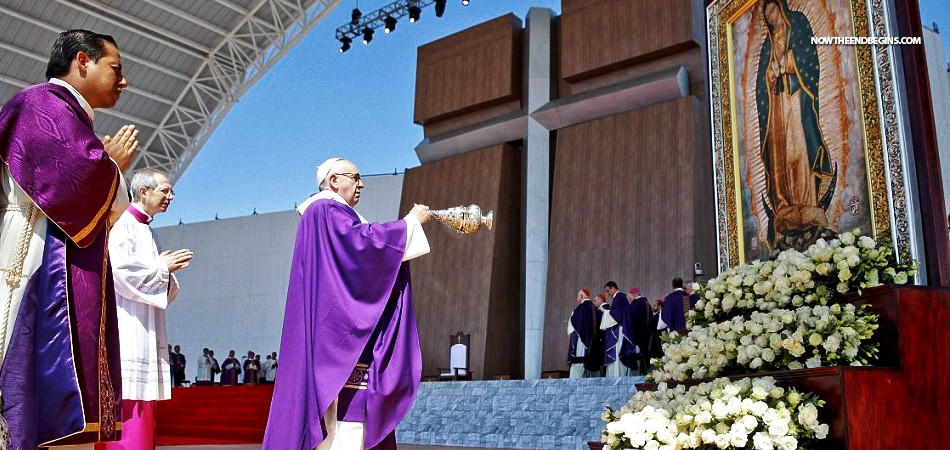 After
his meeting in Cuba
, Pope Francis then flew to Mexico where he was greeted with a
rock concert-like show
with blue floodlights illuminating a stage and bandstands and crowds waving yellow handkerchiefs. Mariachis serenaded as his chartered plane pulled to a stop and people shouted "Brother Francis, you're already Mexican." Then things got weird.
Roman Catholicism Expert tells the evil of Pope Francis:
While he was leading mass
at the
Basilica of the Virgin of Guadalupe
in Mexico City on Saturday evening, Pope Francis suddenly sat down in front of an image of the 'virgin Mary', where
he sat silently and motionless for over 5 minutes
. Later,
he moved into a chamber behind the altar where the image of Mary is kept for nearly 30 minutes
, as seen in the image at the top of this article. While there,
he continued in his trance-like state while he prayed
to and received messages from the "Virgin of Guadalupe".
Now I don't know about you
, but this takes the normal creepiness of the Babylonian-inspired Catholic mass to a whole new level. Nothing exhibited in the mass performed by Pope Francis has any connection with Christian church services as mentioned in the New Testament.
It won't be too much longer before demonic apparitions
will begin to appear on the stage with him, in particular the "blessed virgin", to confirm the seal of Satan on the Whore of Babylon, the Catholic church system.