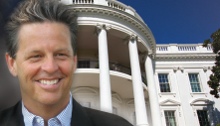 William Koenig
---
Historical Significance Of The Month Of April ... Date Of Infamy For America—April 19-20 ... April 2016 and 2017 Have Become Prophetically Pivotal Months
The Son of man goeth as it is written of him: but woe unto that man by whom the Son of man is betrayed! it had been good for that man if he had not been born. – Matthew 26:24 KJV
For this is my blood of the new testament, which is shed for many for the remission of sins. – Matthew 26:28 KJV
And the angel answered and said unto the women, Fear not ye: for I know that ye seek Jesus, which was crucified. He is not here: for he is risen, as he said. Come, see the place where the Lord lay. – Matthew 28:5-6 KJV
-----
In this week's Koenig's Eye View from the White House
Major Historical Patterns In 2017/2018 & The Jewish Year 5777
Historical Significance Of The Month Of April
Major Events Have Happened Throughout History On April 19-20: World Wars, American Wars, Israeli Wars, The Births Of Hitler And Mohammed, And Many Others
Date Of Infamy For America—April 19-20 And The Days Around It
Annually The Time From March 20/21 To April 19/20—Marks A Very Important Transition Period
April 19/20 Acts Like A Deadline For Determining What To Expect In The Coming (Natural) Year
Major Events That Have Occurred On The April 19/20 Date And Have Impacted/Governed America's Destiny ... Beginning With Our Independence (And Incorporating Almost Every Major, Decisive War In Our History)
The April 19/20 Date Has Pinpointed Many Events Of Great 'Civil Unrest' And/Or Domestic Terrorism In The U.S.
April 2016-2017
Major Prophetic News During The First Two Weeks Of April 2016
Major Prophetic News April 16-22, 2016
Was The Last Two Weeks Of April 2016 The Most Prophetically Significant Period In History At That Point?
April 2017 Has Become Another Prophetically Pivotal Month: Major News Pertaining To Final Day Nations Alignment And Rumors Of War
Trump Raises The Stakes For Russia And Iran
-----
The annual subscription costs $1 a week. A six-month subscription costs $1.15 a week.
Shalom in Yeshua.
William Koenig