by Con Coughlin • July 25, 2016 at 5:00 am
In recent months the Kremlin has hinted that keeping Assad in power is not its primary concern. Rather its main objective in Syria is to keep its strategically-important bases in the country.

This has led to suggestions that, in return for building closer relations with Turkey, Moscow might be prepared to do a deal whereby Assad is removed from power and Russia's military interests in the country are safeguarded.

If that outcome could be achieved, then Russia and Turkey would be able to forge a powerful partnership, one that would pose a serious threat to Western interests in the Middle East and beyond.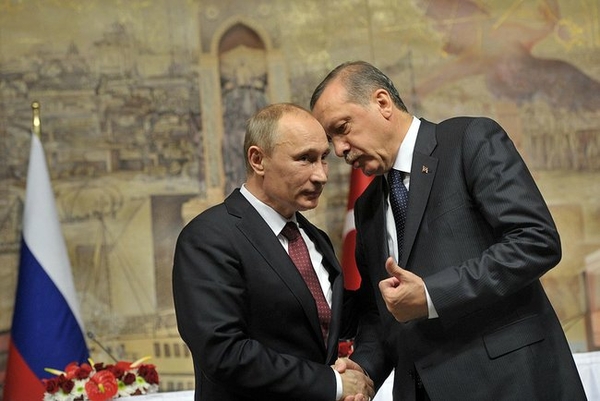 Turkish President Recep Tayyip Erdogan has embarked on a campaign to reach out to countries such as Russia, which he regards as a viable alternative to the U.S. in protecting Turkey's interests in the region. Pictured: Russian President Vladimir Putin with Turkish President Erdogan (then prime minister), meeting in Istanbul on December 3, 2012. (Image source: kremlin.ru)
The deepening diplomatic pact between Turkey and Russia represents yet another damning indictment of the Obama Administration's ability to maintain relations with Washington's traditional allies in the Middle East.
Western diplomats regard the decision by Turkish President Recep Tayyip Erdogan to restore relations with Moscow last month as part of a carefully-coordinated attempt by Ankara to build a new power base in the region.
For decades Turkey, a key NATO member, has said that it wants to forge closer ties with the West, to the extent that Turkish diplomats insist that Ankara is still serious about joining the European Union.