Trump's First War? 'All Options Are On The Table' For North Korea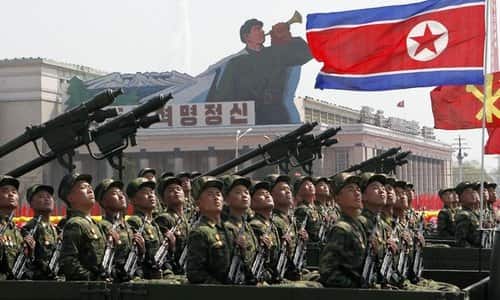 BY MICHAEL SNYDER
This may be the closest that we have been to war with North Korea since the original Korean War ended in 1953.
The North Koreans are feverishly working to develop intercontinental ballistic missiles that could strike the U.S. mainland, and meanwhile Donald Trump has not moved from his position that North Korea will simply not be allowed to have ICBMs.
If North Korea does not blink, it means that we are literally counting down the days until we go to war.
Unfortunately, North Korean leaders appear to literally be insane and they have shown absolutely no signs of backing off.
In 2016, North Korea tested two nuclear bombs and test-fired 24 missiles, and so far this year they have test-fired five ballistic missiles into the Sea of Japan.
During a joint press conference with the South Korean Foreign Minister on Friday, U.S. Secretary of State Rex Tillerson boldly declared that "all options are on the table" when it comes to North Korea...
US military action against North Korea is an "option on the table," Secretary of State Rex Tillerson has stated, adding that Washington's "strategic patience" with the isolated country has ended.
"Let me be very clear. The policy of strategic patience has ended. We are exploring a new range of diplomatic, security and economic measures. All options are on the table," Tillerson told reporters during a joint news conference with South Korean Foreign Minister Yun Byung-se on Friday.
Full Article At: